Microfibre is not a new material for the cleaning industry, at Alban Cleaning we've been using it for a long time. However, there are some who have not yet come across microfibre cloths, and even if they have, many people don't realise the benefits which come with their implementation.
In this article we will list some of the main reasons we choose to use microfibre cloths for our cleaning services.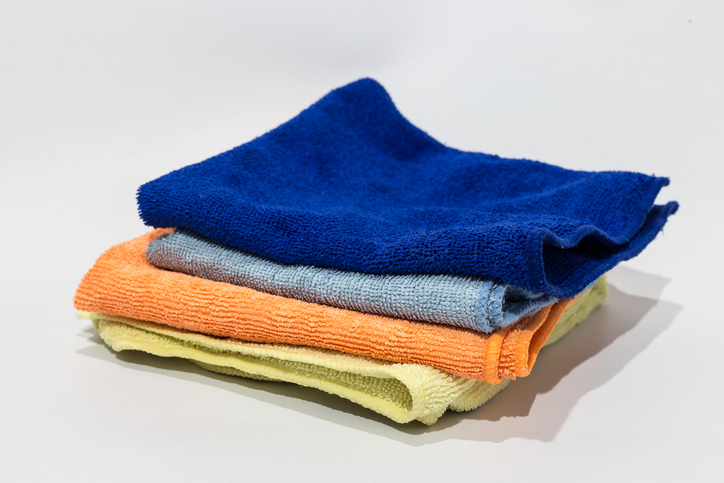 A better standard of cleaning
The benefits of microfibre are varied but the main thing to know about the cloths we use is that they simply offer a higher standard of clean. Because of the nature of the material and it's composition – fine, split polyester or polyamide fibres – it can pick up far more dust and dirt in its cracks and crevices. Where you might have to wipe several times to pick up all the dirt with a standard cloth, a microfibre cloth can give you a swifter, cleaner surface in one wipe.
It's light, so there's less effort
Pushing around heavy materials and mops can be a real strain on a cleaner, so wherever there is an opportunity to use microfibre it makes sense to do so. Cleaning becomes more effortless with this lightweight cleaning material, helping our team of professional cleaners to reduce physical strain whilst still delivering a premier clean.
Clients benefit from a quicker clean
Carrying on from the last point, the microfibre cloth is easier to use, and therefore makes every clean task that little bit quicker without skimping on cleanliness. The quicker we can clean, the more we can get done in your premises. Saving on time saves on energy for you as well, as our staff won't spend all evening scrubbing with standard cloths.
A reduction in the amount of water used
Because most of the cleaning action from a microfibre cloth comes from the cloth itself and all those splits in the microscopic fibre we mentioned earlier, there is a noticeable reduction in the amount of hot water and chemicals needed to clean with. This can only be a good thing as it helps to conserve water and curb a reliance on chemical based cleaning.
Extended life for the cloth
Due to it's robust nature, a microfibre cloth is far more likely to last longer than your average cloth. This means that our cleaners don't need to throw away reams of useless cloth material, something which benefits the environment and allows us to keep costs that little bit lower.
The more we can utilise this kind of material, with potential for extended usage, the more reliable and efficient our cleaning operations become. We take hygiene and cleanliness seriously and aim to keep any commercial premises spotless with the best tools at our disposal.
Here at Alban Cleaning we use microfibre cloths in all the work we carry out for our clients so that they receive all of the benefits listed above – and we can also provide them as part of our janitorial supplies. If you'd like more information about our cleaning supplies, or to arrange for cleaning services in your premises, simply get in touch with our team by calling 01727 789 626 today.