Regardless of whether you have a vast office space or some small commercial premises, pride in your building is vital to creating the right impression for your business. No one wants to walk into a room where the carpets are stained and mucky, this is a bad first impression to give clients, customers and guests and they will probably think you don't care enough about their surroundings.
Floor space is one of the biggest areas in most offices and is quite obviously going to be more noticeable if it's covered in stains, so what are the key stains to try and avoid in your office?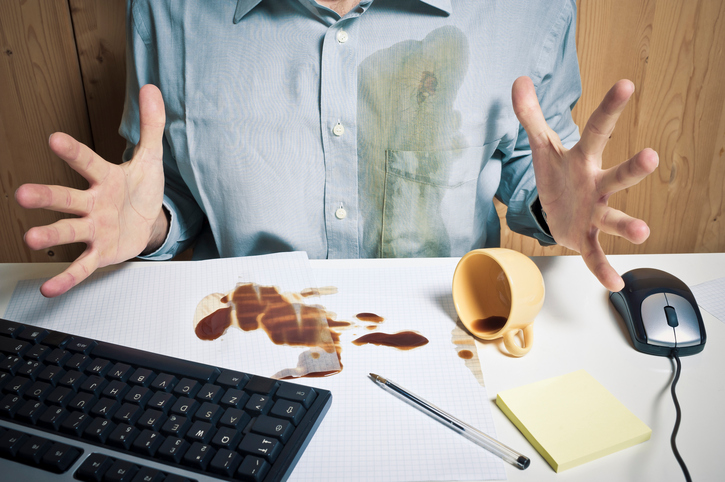 Coffee
The staple drink of most work forces, it's hard to deny people the caffeine boost they crave but it can be a nightmare if spilled onto carpets. This is a stain which will require immediate attention if you're going to prevent permanent damage, but one of the best cures is prevention – create a kitchen area with a linoleum floor or laminate floor so spills can be mopped up and ask people to be careful with any drinks at their desks.
Gum
We're probably more used to seeing gum outside stuck to the pavement where it becomes a nasty blight and a sticky mess, but it's actually ten times worse to get gum on carpets as it sticks to the fibres and can leave behind a residue. In an office people will be considerate but if you have any public spaces you should be on your guard for litterbugs dropping their gum.
Ink
Most people don't use fountain pens anymore so the risk of cartridges being spilt is pretty low, however, ordinary ballpoint pens can also leak. Ensure pens aren't left lying around on the floor where they can be trodden on and smeared into the pile of your carpet. A nasty dark blue or black ink splodge will be left behind if you fail to clean up any ink leakages.
Mud
Typically a worry for carpets when the weather is bad, mud can be tracked in on the bottom of people's shoes without them knowing. A simple way to avoid having mud in your carpets is to have a welcome mat where people can wipe their feet before entering. Also, ask your staff to be considerate with any sports footwear which may be muddy.
Blood
While you would hope that you won't ever have to clean up blood, there is a very good reason for this to be on the list: nosebleeds. Every once in a while someone is bound to get a nosebleed, whether it's a medical condition or because of a knock to the nose, blood will stain your carpets and raise eyebrows for visitors and clients entering your premises.
If you'd like to keep your carpets in top condition or you'd like stain treatment for any kind of mark or stain, then contact our professional team at Alban Cleaning today. We can give your carpets the five star treatment and bring them back to life.